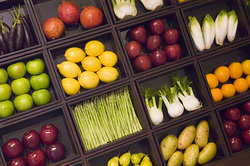 Nutrition is a very personal and individualized aspect of one's overall wellbeing. Since everyone has their own goals, history and genetic makeup, it comes as no surprise that each nutrition appointment will vary and be tailored to each individual's specific situation. However, there is a general pattern that one can expect during their first nutrition appointment, which allows the nutritionist to gain a better understanding of the individual and their aspirations.
Together, you and wellBEING's Nutritionist will:

- Discuss your goals and reasons for seeking nutrition consultations – what would you like to get out of your nutrition sessions?

- Discuss your health, physical activity and nutritional history

- If appropriate based on desired goals and comfort level, take measurements such as weight

- Begin dialogue of relevant nutrition information according to needs and goals

- Create short term goals to ultimately help you reach your long term goals
Nutrition Counseling Sessions
1 Session: $60/session
5 Sessions: $55/session
10 Sessions: $50/session
20+ Sessions: $45/session
In-Home Training or Nutrition, Duet Training and other training services available as well as private Yoga or Pilates sessions. Please inquire for pricing and details. Packages expire 6 months from date of purchase. 24 Hour Cancellation Policy for all Nutrition Counseling Sessions.